Week 1 | Sep 24 | 9 am to 1 pm
Brief introduction to the history of mosaics and the works of Antoni Gaudi. Learn the basics of nipping tile and cutting glass to create tesserae (the small pieces of glass, stone, mirror, or other hard material used in mosaics). Begin planning individual project designs and materials that participants will gather for next week's class.
Week 2 | Oct 1 | 9 am to 1 pm
Finalize plans and begin laying out tesserae. The focus will be on composition and adeamento (Italian for flow, it refers to how the placement of tesserae in rows creates a visual direction and movement). Adhere/finish mosaic.
---
To register and pay online, please complete the form below:
---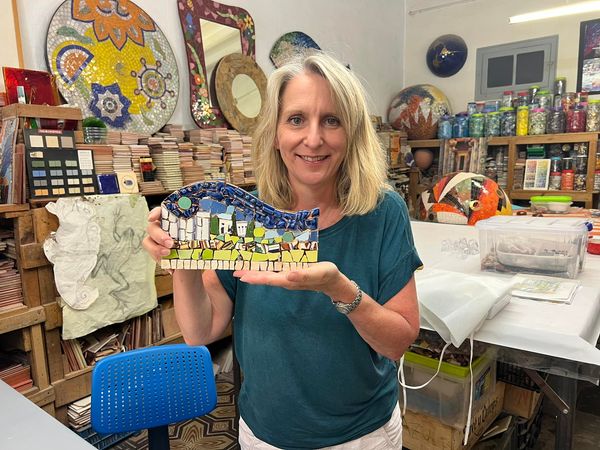 Instructor, Joyce Crown-Wilkins, is a local artist and art educator with a B.A. in Art Education (cum laude) from V.C.U. As a active member of the Virginia Art Education Association, the Teacher Advisorary Committe for the Virginia Museum of Fine Arts, and the Tappahannock Art Guild, Mrs. Crown-Wilkins has presented countless workshops to art educators and aspiring artists throughout the state. She recently traveled to Barcelona on a Fund for Teachers grant where she studied Trencadís mosaic techniques in the studio of Livia Garetta and is very excited to share what she learned with her community.