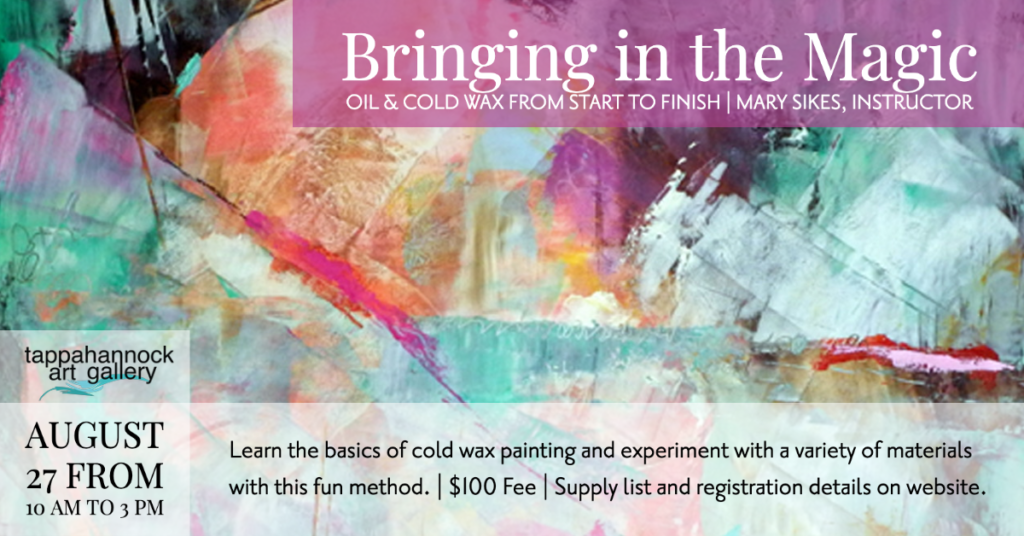 Working in oil and cold wax is one way to develop texture and form, using your own unique personality to create artwork. Learn the basics of cold wax painting and experiment with a variety of materials with this fun method. Develop design skills and create starts that will become paintings that "speak to you." During this intensive workshop, instructor Mary Montague Sikes (Monti) will demonstrate basic methods and leave you with time to explore the possibilities in your own work.
Supply List
Matboard or any sturdy surface about 12" x 12" will work well for artists panels. Ampersand gesso board, cradled or flat, is ideal. Cradled wooden panels from Jerry's or Cheap Joe's are ideal. You can also work on Arches oil paper, Yupo, and Terra skin paper.
One can Gamblin or Dorlands cold wax
One bottle Gamsol and a spray bottle for it
Assortment of favorite oil paints, including white
Freezer paper to use as a palette
Messermeister bowl scraper
Printmaking brayer
Paper towels, rags, baby wipes
Old credit cards for painting
Wide blue painter's tape
Wax paper to separate projects for transport
Items to enhance texture like stencils, stamps, string, vegetable bags, yarn, collage papers. Items like paper product tubes, old lipstick tubes make good stamps.
Thick gesso (Utrecht professional) and oil paint sticks are nice to have but not essential.
Note: You can start a painting using acrylics or work over an old acrylic painting. You can paint oil over acrylic, but not acrylic over oil.
Bring lots of enthusiasm and a readiness to learn new techniques. Questions? E-mail Monti at monti7olen@verizon.net .
To register, please complete the form below.